Every year MJSA invites a small group of designers to participate in their annual Mystery Box Challenge, where they'll have four weeks to transform a box of materials into a piece of wearable jewelry. The big catch? They don't know what's coming in the box…well, kind of.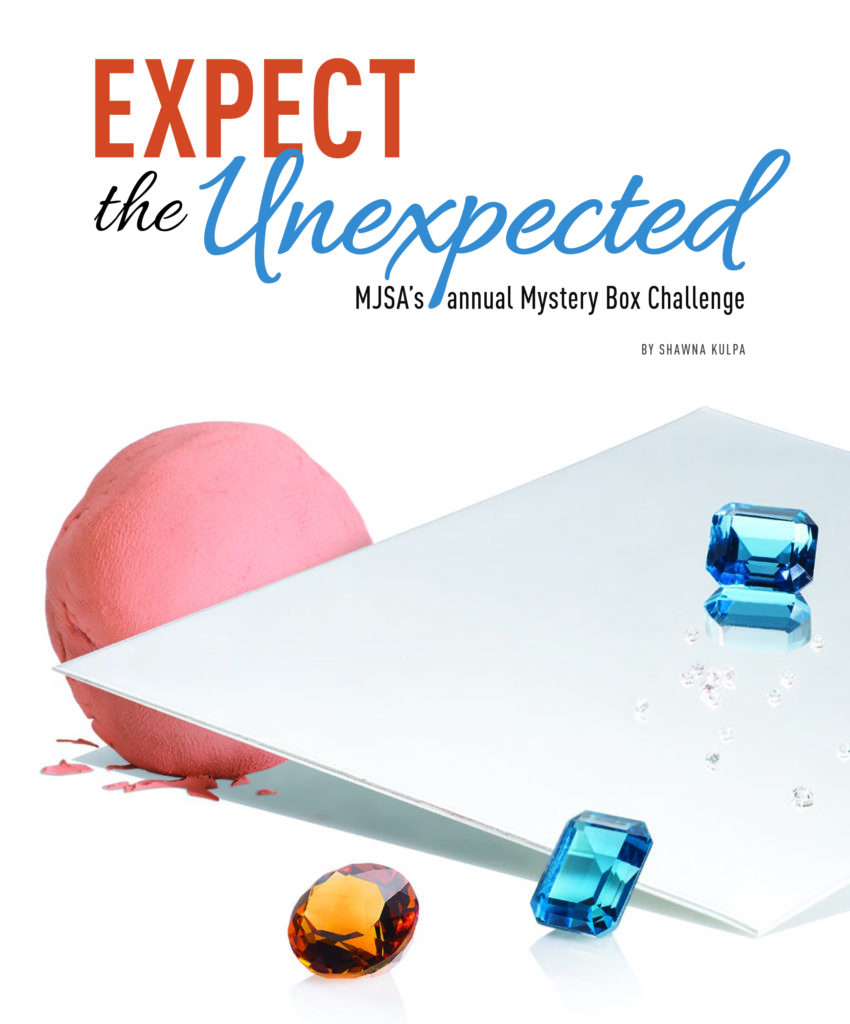 All of this year's designers admit that they agreed to participate because they like a challenge, especially one that pushes them outside their wheelhouse. But that doesn't mean that they don't do what they can to prepare—and that includes looking back to see the materials featured in previous challenges. And they've discovered a pattern: a good chunk of metal (usually sterling silver), a few gemstones, a little bit of something precious (such as a few inches of chain or diamonds), and then one more…unusual item. After all, where would the challenge be if we only sent out precious metals and gemstones?
This year's box was no different.
The designers all knew to expect one slightly outside-the-box ingredient in the challenge. But despite knowing to expect the unexpected, they were inevitably taken aback when they discovered this year's unusual ingredient.
So, what did this year's designers get to work with? They each received the following, with instructions that although they could add their own materials as desired, the finished piece had to include at least a little of something from each of the four groupings:
• Two 10 x 8 mm emerald-cut blue topaz and one 11 x 9 mm oval citrine from Omi Gems in West Covina, California
• One 3-inch by 4-inch sterling silver sheet from National Fabricated Metals in Warwick, Rhode Island, a division of National Chain Group
• Nineteen 1.3 mm and one 2.0 mm lab-grown diamond melee from Joseph Blank Inc. in New York City
• 50 grams of Art Clay Copper from Contenti Co. in Pawtucket, Rhode Island
At Omi Gems we were excited to contribute to the 2020 MJSA Mystery Box Challenge. We selected stones that were contrasting in shape and color, making us very curious to see what the designers could come up with. It was a true challenge! We're honored to present what the designers turned these expected and unexpected materials into!
Karin Jacobson, Karin Jacobson Design, Minneapolis
On Full Display
Michael & Catherine Jensen, Michael Jensen Designs, Rio Rancho, NM
Beyond The Horizon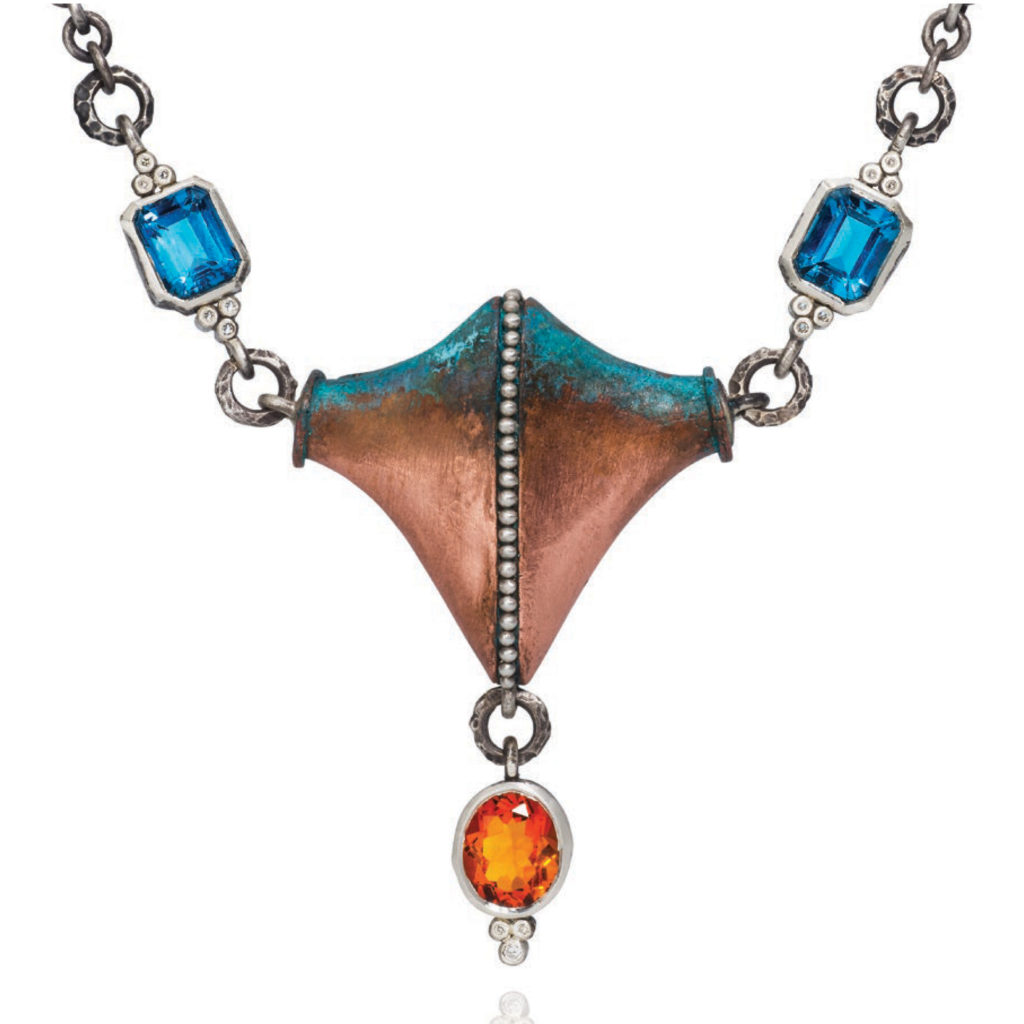 David Giulietti, David Giulietti Designs, Berkeley, California
Giving Up Control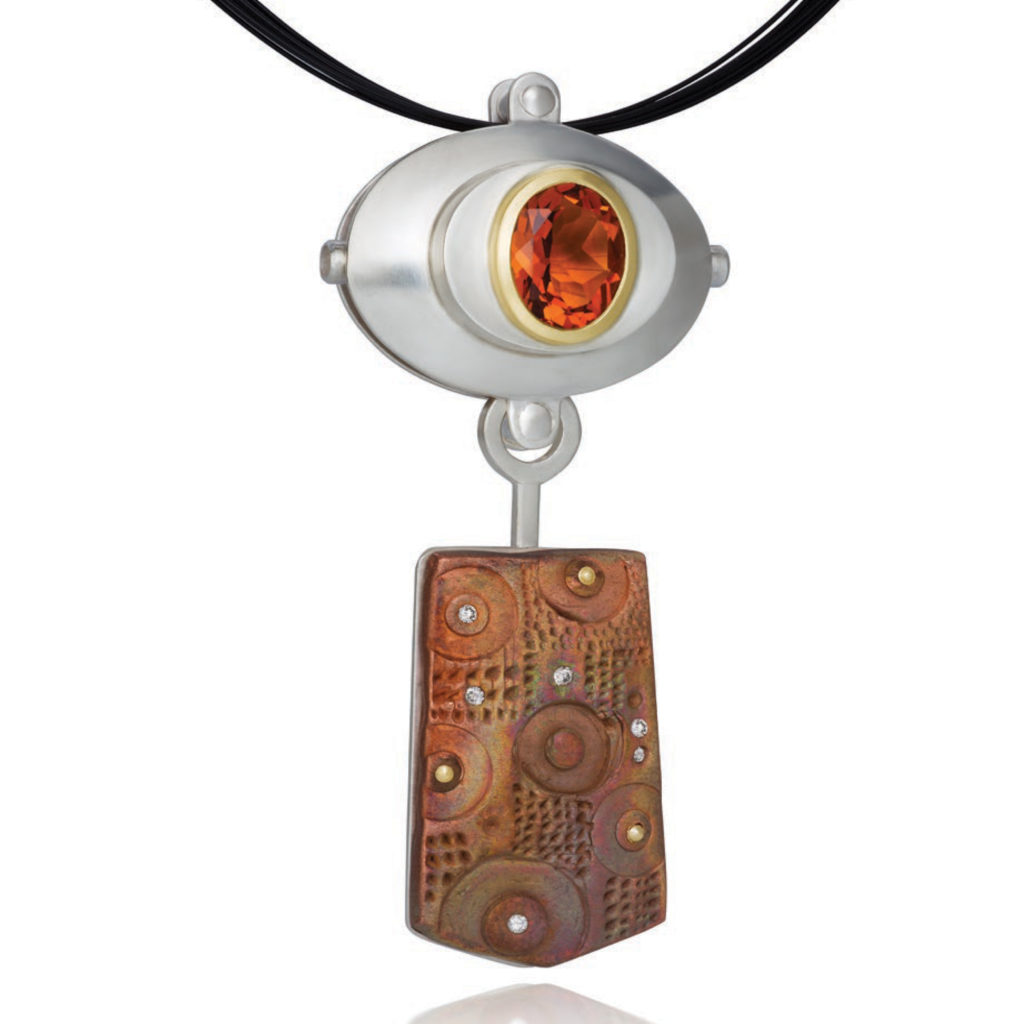 Discover what the designers turned these expected and unexpected materials into, read the entire article on the MJSA website.