Each year MJSA hosts an exciting Online Design challenge for its designer members. For 2014, nine designers were challenged with creating a jewelry piece around a lovely 4.49 carat padparadscha sapphire provided by Omi Gems.
VOTE NOW!
Voting ends on Friday, October 31st!
The premise of the challenge, "A Mother's Love", is to create a design based on a fictional scenario, presented here, about a group of siblings that have come together to commission a very special 70th birthday gift for their mother.
We invite you to view all of the creative designs and cast your vote for the winner! Click each image to read the designers inspiration and design approach.
Design #1: Walt Adler Chefitz, Walt Adler, Miami

An emotive brooch named "Three Generations."
Design #2: Jessica Neiwert, Seattle


18K rose gold ring inspired by the color scheme of a sunset.
Design #3: Jenny Reeves, San Francisco


An 18K yellow gold brooch radiating warmth from the center.

Design #4: Gregory Crawford, Gregory Crawford Design, Atlanta



White & green diamonds create a flame motif platinum pendant.
Design #5: Erin Murphy, Goldworks, Eugene, Oregon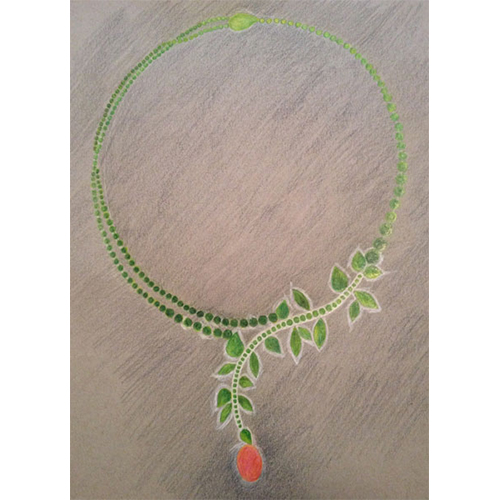 A vine of green tourmalines curves to the padparadscha center in an 18K yellow gold necklace.
Design #6: Robin Waynee, Ryan Roberts Ltd., Chimayo, New Mexico


An arch of 18K white gold set with diamonds encompasses vine-like forms, with the padparadscha sapphire as a flower centerpiece.
Design #7: Geralyn Shrican, Geralyn Sheridan Design Studio, Chico, California
Reflecting lines and colors from Matisse, this yellow gold ring set with blue topaz, tsavorite garnets, chocolate diamonds and mandarin garnets compliments the padparadscha stone.
Design #8: Pamela Froman, Pamela Froman Fine Jewelry, Los Angeles


A signature ombre metal style transitions from 18K pink gold to 18K yellow gold captures warmth of flowers and color of the sunset surrounding the padparadscha center.
Design #9: Tittin Rinde, Grey Pearl Studio, Antibes, France


Surrounded by a sea of mother of pearl the padparadscha shines like a sunset in this colorful brooch.