Perfectly aligned with New York Fashion Week, Pantone has released their Spring 2014 Color Report, revealing soft pastels paired with vivid brights for a colorful equilibrium. Inspired by a mixture of blooming flowers, travels abroad, and strong, confident women, designers are using color to refresh, revive and defy conventional wisdom.
"This season, consumers are looking for a state of thoughtful, emotional and artistic equilibrium," said Leatrice Eiseman, executive director of the Pantone Color Institute. "…the inherent versatility of the individual colors allows for experimentation with new looks and color combinations."
Omi Privé is excited to introduce some of 2014's colors in our latest designs. Let us know which color is your favorite! You can even take the 2014 Color Survey here and see which color has the lead!
Cayenne, a high-pitched reddish orange, adds a dash of spicy heat to neutrals. Our 18K rose gold and pink tourmaline ring exudes "Cayenne"!
Radiant Orchid is a perfect companion to pastels and pairs well mixed with other bold colors. Pink sapphire comes in a variety of hues, including "Radiant Orchid" as seen in this one-of-a-kind pink sapphire platinum and 18K rose gold ring.
Placid Blue, induces a sense of calmness and tranquility as seen in our double-halo sapphire and platinum engagement ring. With its clean and clear-blue, cornflower blue sapphire will make its wearer feel the breeze and brilliant shine of calm seas.
Dazzling Blue, a scintillating, polar opposite to Placid Blue, this strong color as seen in our violet-blue round sapphire and diamond ring pairs well across the pallet.
Freesia, an intense yellow, brings powerful energy to the spectrum. Yellow sapphires are the perfect gemstone to elude this sunny hue.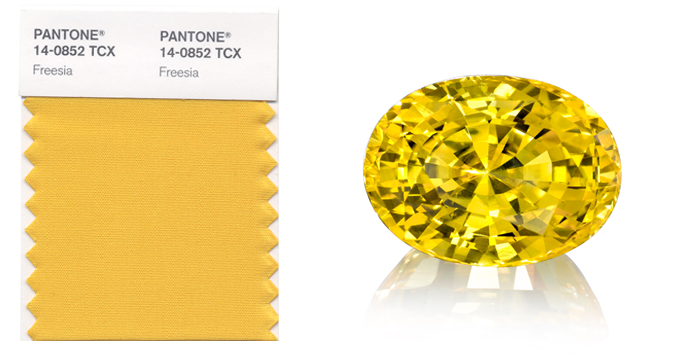 Violet Tulip, a romantic, vintage purple, evokes wistful nostalgia. What does our radiant-cut fancy sapphire ring bring out in you?
Hemlock, a summery, ornamental green, provides a touch that's different from the Emerald green of last year. Green tourmaline paired with yellow gold is the perfect hue to carry summer through every season!
Celosia Orange, an optimistic, spontaneous hue can inspire you every day with our imperial topaz, ruby and diamond ring set in 18K rose gold.