by Nicolette Kovacevich, G.G.
Manager of Fine Jewelry, Omi Privé
After returning from my weeklong "heaven" of jewels and gemstones that is JCK Las Vegas, the Omi Privé team cannot be more thrilled with the positive responses received.   Personally, this show made me realize one thing – I am spoiled.  As a company, we are blessed to source and work with some of the nicest and highest quality gemstones and jewelry in the world.  While it is wonderful to work with such exceptional beauty every day, it would be unfair to state that we do not tend to get accustomed to, and take somewhat for granted, this quality over time.  JCK 2013 served as a reminder for me.
Overall, the show was a great success.  I enjoyed spending time with current and past clients, and forming relationships with new ones! Excitingly, one thing that became very apparent over the course of the show was the multitude of "Oooohhhs" and "Ahhhhhs" received over the Omi Privé jewelry collection.  A great amount of time, energy, and effort was extended from all members of our team in preparation for this show.  Receiving these acclamations was both honoring and humbling.  I would like to recognize a few of the Omi Privé designs that gained the most attention and requests. It seems that these pieces were rarely in the showcase during JCK, as they were out being viewed, filmed, or photographed!
Emerald & Diamond Drop Earrings (EO1011-EMPE) – In the conception of these gorgeous pear-shaped emerald earrings, we set out to create a unique, yet timeless, design that would cradle the stones, and reveal their beauty from all angles.  During the second day of the show, while wearing these earrings, an unknown buyer approached me, turned my face to examine the pair, and exclaimed, "Well, those are truly two pieces of eye candy!"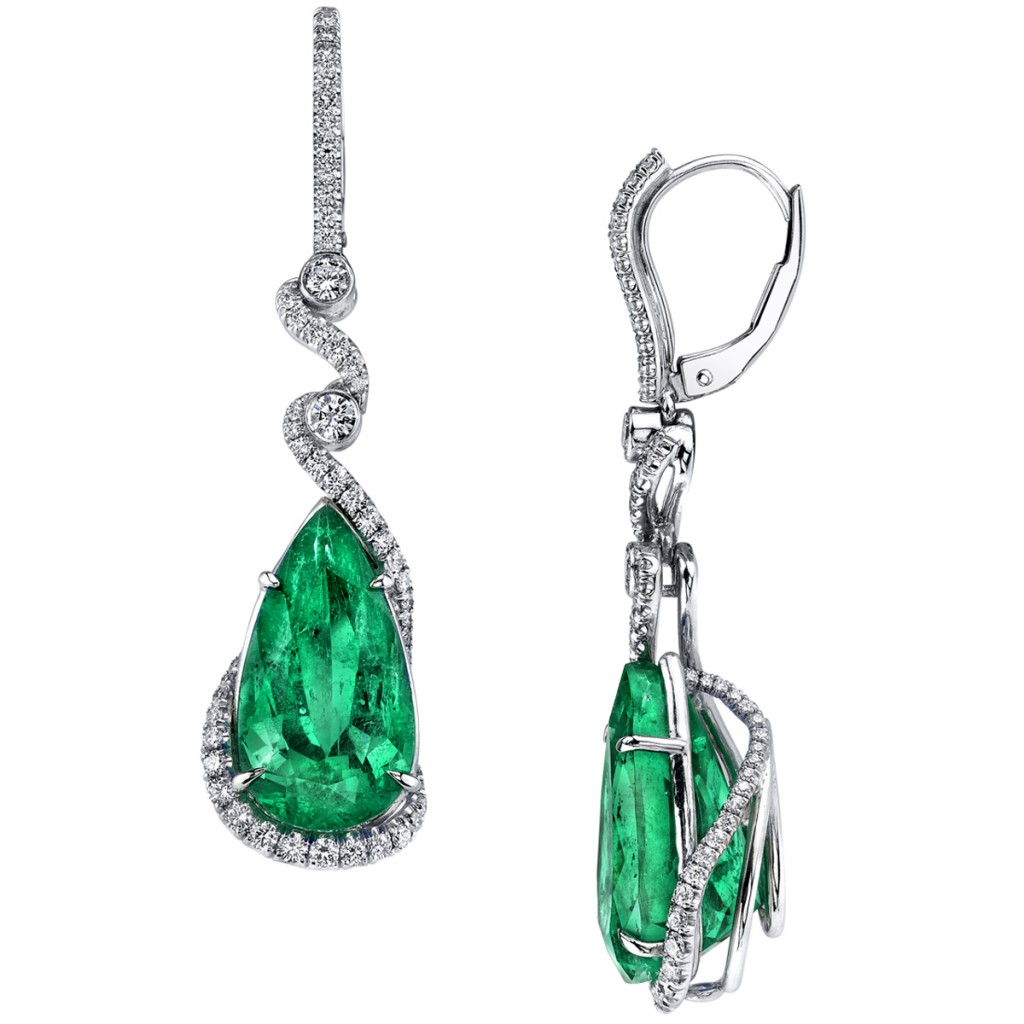 Ruby & Diamond Necklace (NO1000C-RURD) – 17 ¾ inches of pure beauty, this necklace has been greatly sought after since its completion and hand-delivery in Las Vegas!  Reminiscent of "old Hollywood glamour," it is a work of art. The necklace features 58 Burmese rubies with 37.04 carats total weight, perfectly matched, as well as over 1,000 diamonds totaling 6.48 carats.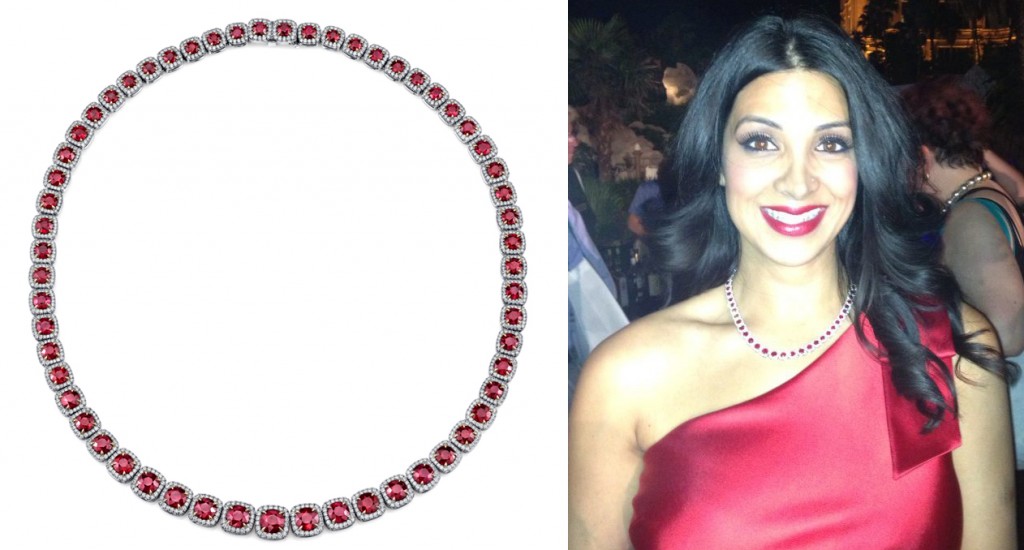 Alexandrite & Diamond Eternity Band (BC1000-ALRD) – One aspect constantly recognized of Omi Privé pieces is the ideal match of all colored gemstones set in each piece. However, even members our own team were amazed and elated by this set of perfectly matched round alexandrites! The eternity band presents 3.34 total carats of fine-quality alexandrites, featuring consistent, excellent color change all the way around.
Pink Sapphire & Diamond Ring (RO1011-PSCU) – Crafting the right ring to ideally feature this 11.24 carat pink sapphire was no easy task. Much time and care were taken in the fabrication of this piece; so much so that the ring actually made its official debut the night before the show in Las Vegas! My facial expression in the picture below explains it all, and has been a consistent reaction had by many upon trying on this One-of-A-Kind pink sapphire ring.
Alexandrite & Diamond Ring (RO1005-ALOV) – This ring may be spotted in a variety of editorials and magazines; however, it never ceases to amaze buyers upon being viewed in person. The center is a 2.69 carat oval Brazilian alexandrite with excellent natural color change. This ring was also one of the Omi Privé pieces featured on JCK-TV this year!
Ruby & Diamond Ring (RS1240-RUCU) – This piece may be smaller than the others at first glance, but its beauty lies within its simplicity. The cathedral design tapers downwards, elegantly featuring the 6.5MM ruby cushion center. This classic style appeals to a variety of customers today.  With brilliant round diamonds set in the body of the ring, this design caught the eyes of many JCK buyers!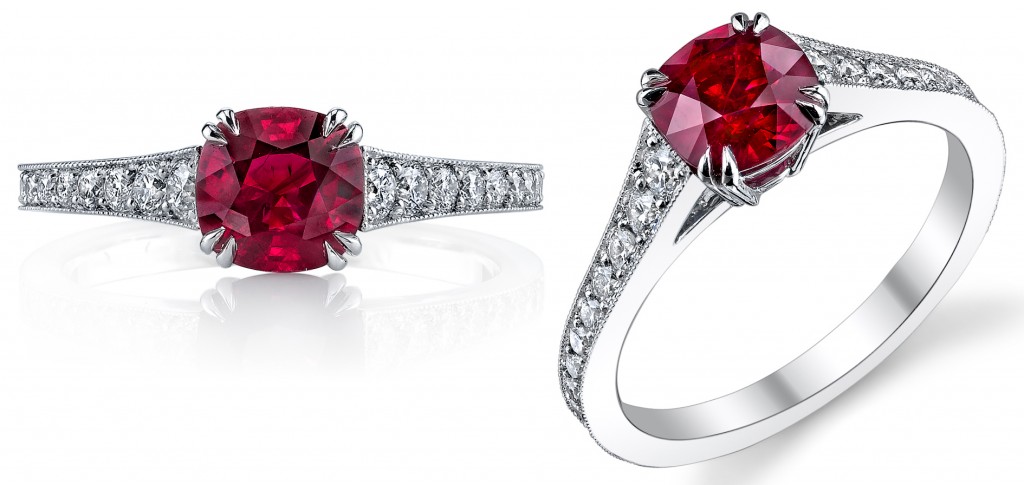 For more of the latest jewelry trends sign up for our e-newsletter, follow us on twitter and facebook!