New to Omi Privé and completely on trend is a one-of-a-kind pink sapphire & diamond bracelet. This piece features 79 fancy-cut pink and purple sapphires weighing a total of 81.94 carats! Over 1,100 round diamonds with a total weight of 12.52 carats brilliantly frame and accent these stones. One will also find 2.45 carats of round pink and purple sapphires "sprinkled" within the bracelet's design.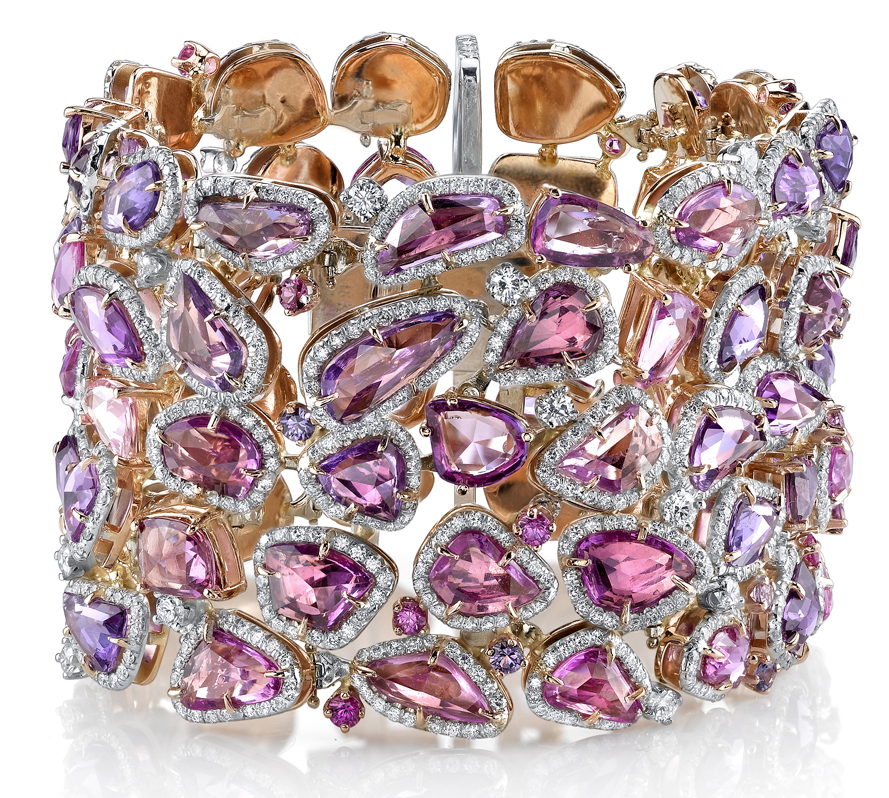 These rose cut fancy sapphires are unheated; thus, their color is of natural origin. Each stone was cut to enhance its individual color and beauty, adding to their uniqueness and value. The rose cut received its name for its resemblance of an opening rose bud. Cutting in this style reduces weight loss of the gem, while reflecting the stone's natural hue. Characteristics of the rose cut are typically flat on the bottom, rising to a low pyramid at the top, with small, triangular facets.
Countless hours were spent studying these fancy cut sapphires and contemplating the bracelet's design before any production could begin. First, the rose cut sapphires were laid out, with their hues and shapes alternating.
Then, the team of jewelers expertly began to craft the bracelet. Every piece is created individually by hand for each particular rose cut. The frames are connected separately, with most on hinges to increase movement, allowing for maximum comfort and sparkle from the bracelet.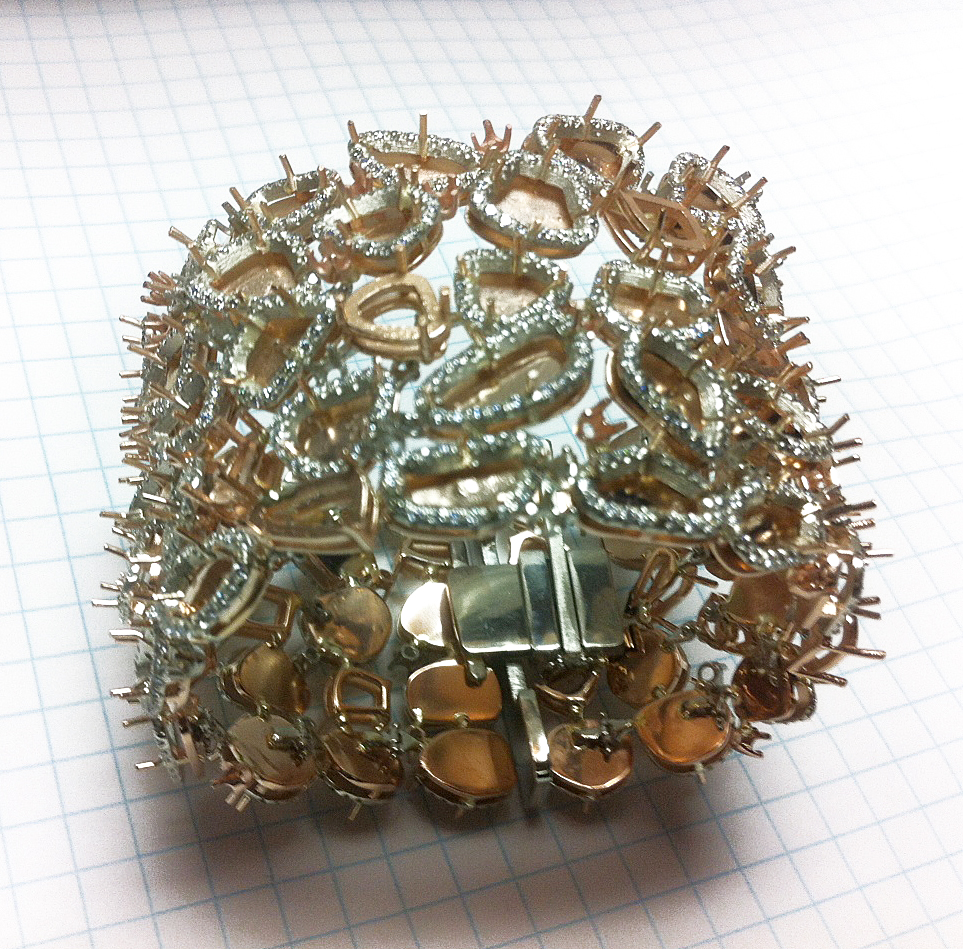 The base of each sapphire's frame is polished internally and on all surfaces before the pieces are connected. This maximizes the clean light reflection from all angles. The pavé-set diamond frames are created in 18K white gold. The prongs holding the stones, as well as the entire base of the bracelet, are crafted in 18K rose gold, ideally accenting the sapphires' hues and allowing their true colors to shine through.
The most important aspect of this bracelet lies within its assembly. Certain stones are set without frames for balance and contrast. Varying sapphires are angled to give the bracelet depth and movement. "From each stone to each stone, one will notice that the angle is changing," states Niveet Nagpal, Omi Privé's President and head designer. "We studied the structure of the bracelet to perfectly harmonize its design, with tremendous focus on how it will move, how it will flow, and most importantly, how it will feel for the wearer."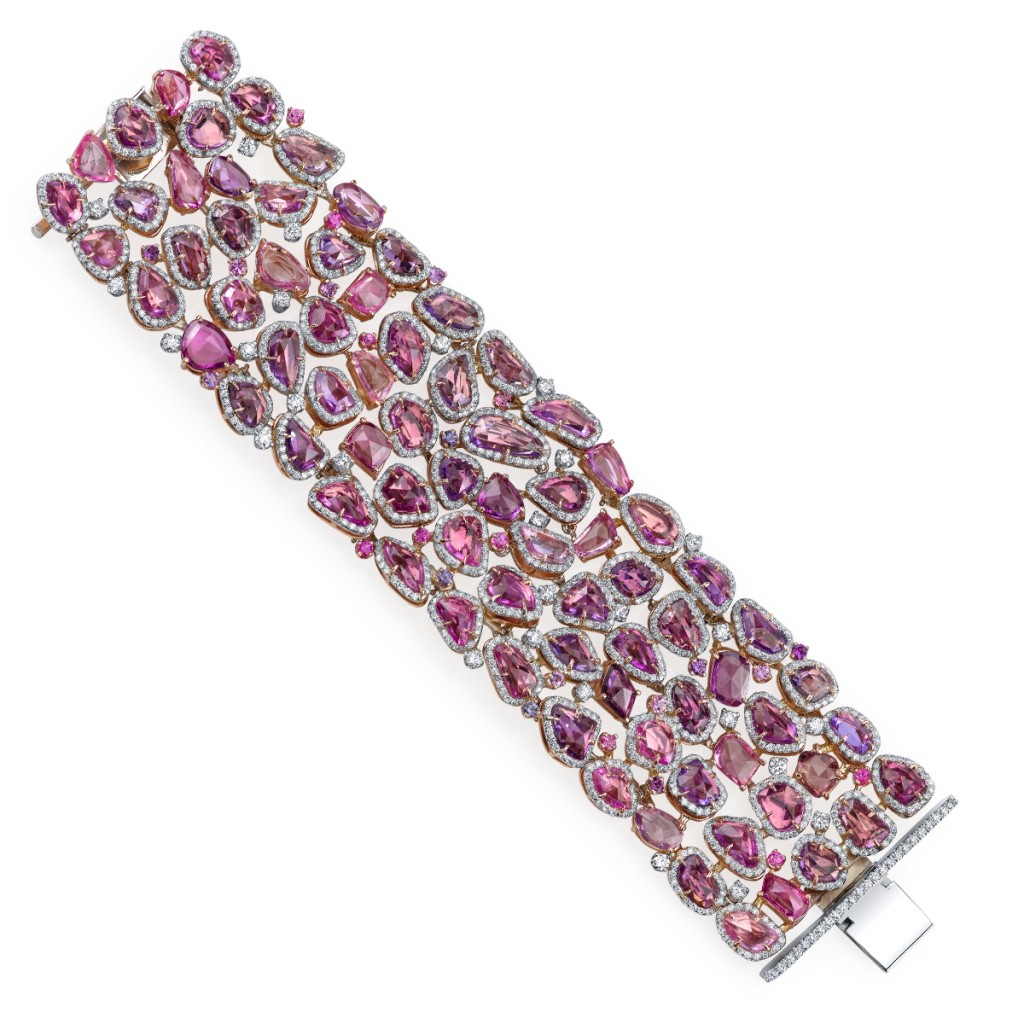 Lastly, the bracelet features a double safety lock, with the box clasp made by hand. Nagpal concludes, "This bracelet was definitely more labor intensive than anticipated. However, it is truly a one-of-a-kind masterpiece. It was a great experience and positively a great honor to create this exquisite bracelet to be a wearable work of art for today's most feminine customer."