The sixth and seventh designs for the MJSA 2013 Online Design Challenge have been posted! Each year the MJSA hosts an Online Design Challenge where participants are challenged to create a design around a loose gemstone. This year, the designers are inspired by the center stone, a 3.18 carat cushion alexandrite provided by Omi Gems, and a fictional story about a young Russian couple in love. Throughout the year, nine designers are challenged to create an engagement ring and wedding band set featuring the alexandrite, while keeping in mind the desires of Galina, the young woman who is center stage in the story.
Design #6 comes to us from Vijayshree Sovani of New Delhi, India. Vijayshree wanted to fuse Galina's rich traditional culture with her love for modern design into her ring. The 18K white gold wedding band is meant only to be worn together with the engagement ring is inspired by the domes of Russian architecture. A pink tourmaline and peridot leaves pick up on the floral enameling in the 18K white gold engagement ring featuring the beautiful alexandrite.

Symbolizing the traditional Russian Orthodox belief in the holy trinity and its blessings, the engagement ring designed by Sovani showcases an enameled pattern that portrays Galina's love for modern design.
The 7th design comes from
Brooke Kanani Kahealani Sachs
, from Westerly, Rhode Island. Brooke's design took shape in the form of a sculptural story of Galina's life, including her family traditions, her love for the fashion designs of Lesia Paramonova, and the Russian Orthodox church. Choosing 18K yellow gold, Brooke felt it would create beautiful shadows through the organic design and be a nice contrast to the color-change alexandrite. Integrating some of the main ingredients of the traditional Russian porridge; wheat created from graduated diamonds, poppy seeds and a honeycomb pattern grace the engagement ring.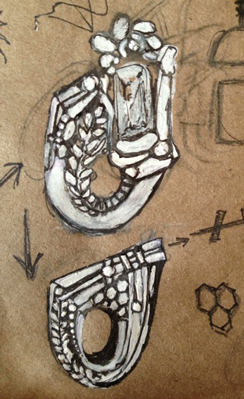 The center alexandrite is surrounded by floral petals, creating a soft gestural edge around the symmetrical stone. The golden floral design at the top of the alexandrite is meant to take the shape of a dome, which symbolizes the sky. The alexandrite then creates a rectangular structure symbolizing a ship as a means of salvation (Noah's Ark).
Both of these unique designs exemplify the story of Galina and her family traditions, fashion sense, and religious beliefs. Stay tuned to see the remaining designs announced in the 2013 MJSA Online Design Challenge! If you're looking to design your own alexandrite ring, give us a call at 877.OMI.GEMS to inquire about our extensive inventory of loose alexandrite.