by Natalie Weisiger
Director of Marketing, Omi Gems
Most people do not have the opportunity to personally mine a gemstone for their own piece of jewelry. In fact, most people are not aware that there is the possibility of finding gemstones literally in their back yard. That was the case for me, until I began working at Omi Gems, and became a member of the Gem and Mineral Council (GMC) of the Los Angeles Natural History Museum. My adventures in mining and jewelry had officially begun!
Last July, the GMC hosted a "collecting" fieldtrip to Cascade Canyon, located in the San Gabriel Mountains of San Bernardino County, California. The canyon contains lapis-lazuli and corundum deposits that few people are aware of or have had the chance to peruse (you must have a permit to take samples from the area). An hour drive from my home in Los Angeles, I was extremely excited to meet with the group, and to start my hunt for California rubies! I had no idea that corundum existed in California…I also had no idea the caliber of "hike" that awaited me in order to find the corundum. Keep in mind this is mid-July in the higher elevations of Southern California: hot and dry! Relieved that I had brought a CamelBak pack full of water, I took a deep breath of the 5,000 ft. air, and started down the hill with great anticipation of what we would find.

Cascade Canyon and its location on map.
Here we go! 
Our group consisted of GMC members of all ages, from 6 years old to 70+. It was a nice feeling to be with such a varied group who all share a love of minerals and gems. It also kept me motivated as the hike began to get daunting; the route included lots of dry brush, burrs, bugs, ups, downs, large boulders and even a river to traverse (some have nicknamed it "Devils Canyon")! The location is so far from the beaten path, even our guide took a few wrong turns along the way. I was beyond glad that I had brought a walking stick; otherwise, I would have fallen countless times (as a few people actually did).
The very rocky river crossing was made easier by some helping hands.
Once we made it over the river, it was a short trail to the corundum bearing rock deposit (it is actually a landslide deposit; the outcrop itself is high up the mountain, but a landslide had moved the ruby-bearing rock fragments down the hill for "easier" access). Here is where my gem newbie-ism came into play. As everyone descended on this hill like excited little gnomes looking for treasure, I stood unaware that we had even found the "rubies." Before I realized that we had arrived at our destination, every single person in the group had their hammer and chisel out, and were working feverously. I slowly set down my backpack, put on my volleyball kneepads, which I had purchased the day before (and was teased by Tony, the Curator Emeritus of the Natural History Museum, for wearing them), and started chipping away at the rock. All of the rocks looked the same to me: dirty, boring and less than extraordinary. I had no idea what I was looking for, and was extremely intimidated. Finally, a new friend helped me to identify which rocks would likely contain the pale rose to deep lilac specimens.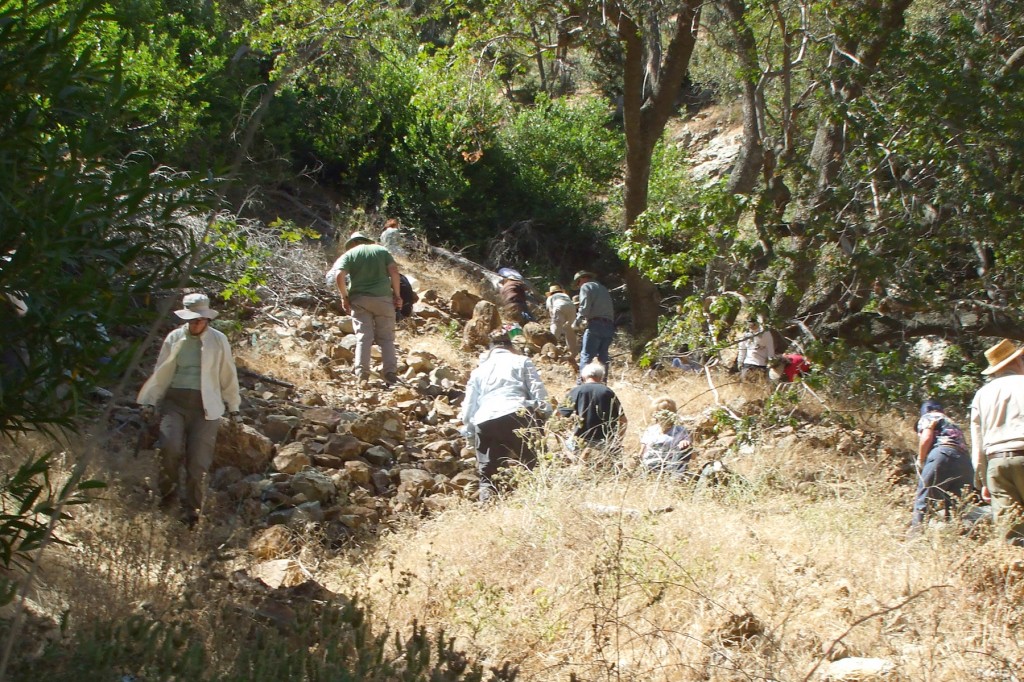 And here it is! The ruby slide, completely unnoticeable, unless you recognize what to look for.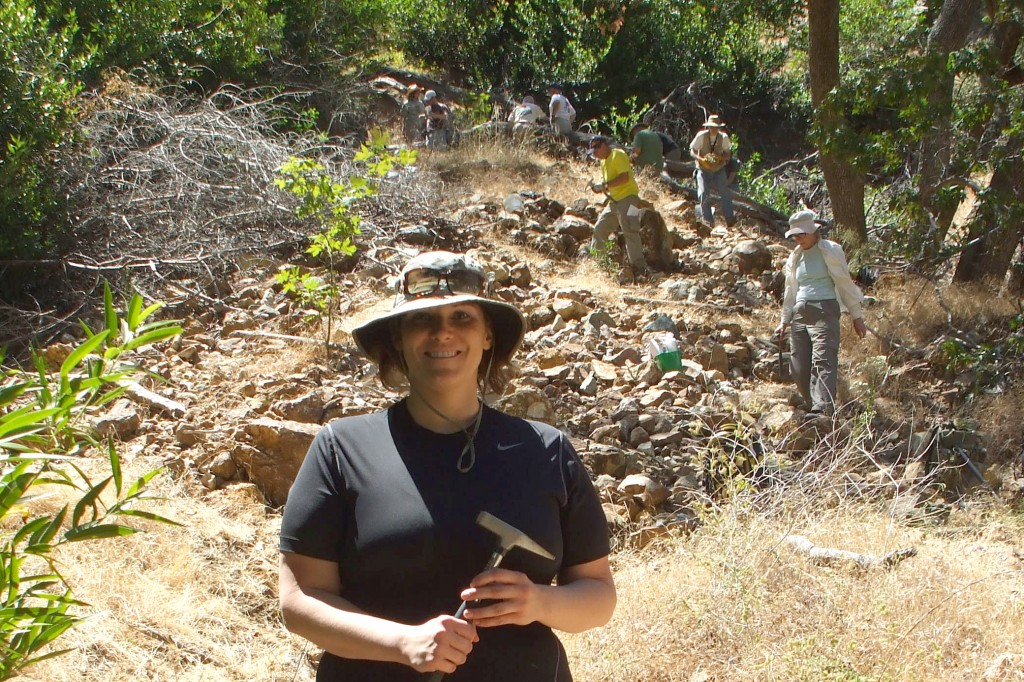 My first time holding a pick! 
After a few hard hits and some intense pick action, I found some very small fragments of "California Ruby" peeking through the rough exterior. It is not anything to write home about, but it was still very exciting for me to see how the crystals had formed, and that I had actually "mined" them myself! After picking at the host rocks with various inappropriate tools including: a Swiss army knife, screwdrivers and pliers, my determination paid off with a nice little pile of corundum. I quickly realized that whatever I collected, I would have to carry back with me (rocks are heavy!). I was ready to get going (as was the rest of the hot and tired group). We quickly packed up and headed back towards the way we had arrived.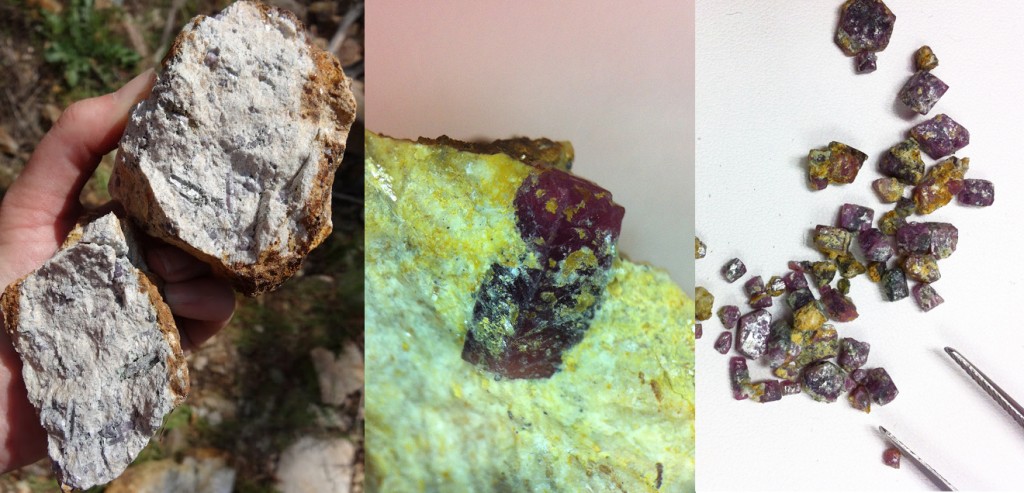 The Cascade canyon corundum is a pretty pinkish-red. It is darkened by inclusions of graphite (C) and rutile (TiO2).  Most of the crystals are tiny, but can reach up to an inch.
Once I returned home and sat down with a cool drink, I had a new appreciation for how truly special gemstones really are. I have always heard the term "precious gemstones," and had never put much thought into its meaning. This may partly stem from seeing countless, beautiful, faceted stones in the office each day. I am spoiled, having only seen the end result of a gemstone's travels, and never its beginning. Now that I had personally witnessed the birth of a stone's "life" outside of its rock, I had to take it all the way! Even if it was the most undesirable-looking piece of stone, it was special to me, since I had personally retrieved it from the ground.
I fell in love with one stone in particular…it wasn't the prettiest or the largest, but its ace shape instantly inspired a design idea for a ring. Yay! But now what?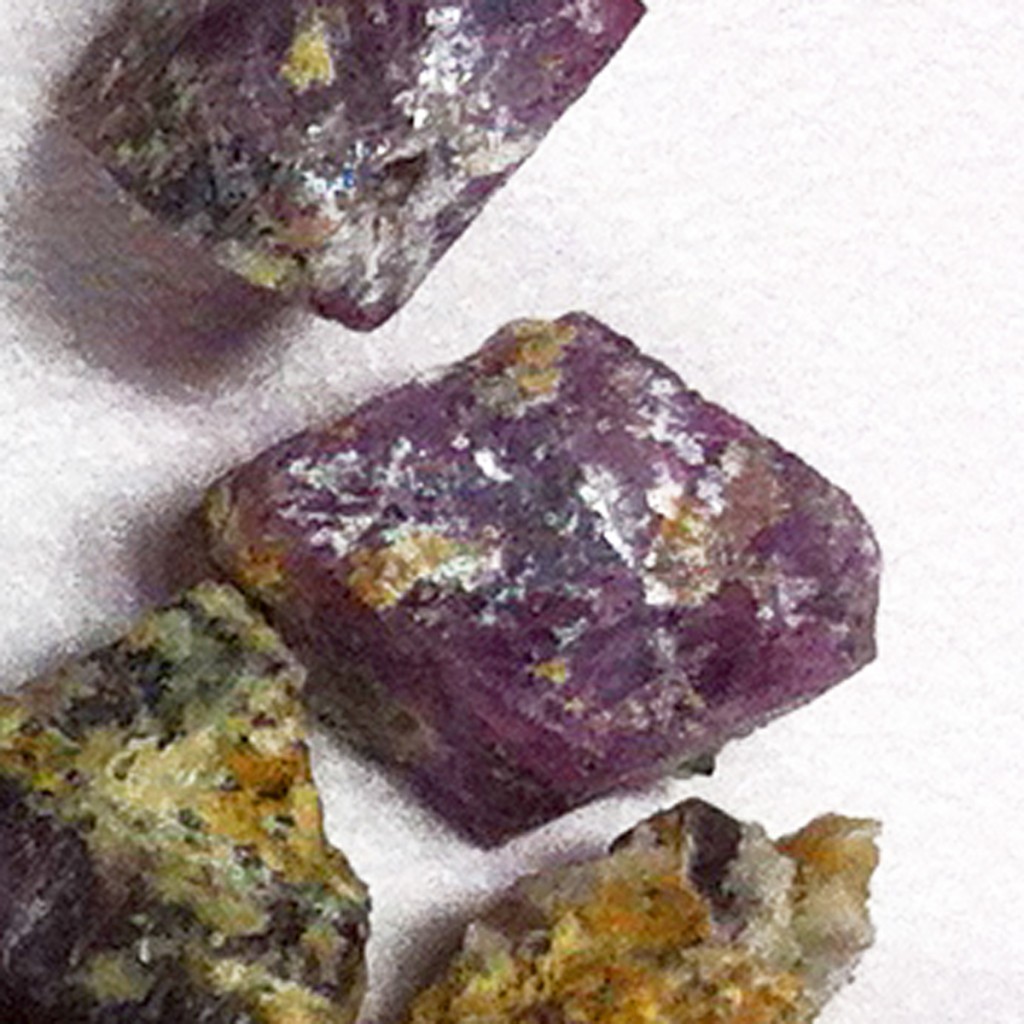 My diamond shaped ruby.
I turned to Niveet, and asked if I could meet with our stonecutter to learn more about the process. With a "yes" from the boss, and my rubies in hand, I knocked on our cutter's door to see how a rough stone becomes beautiful. Our stonecutter is a talented man with decades of experience. I entered his small workspace, where he has all the tools he needs within one or two steps. It appears that there is not much required, besides the shaping and polishing wheels, the associated tools, a few sinks, a lot of sticks with wax (which I later learned are called lapidary sticks) and an amazing talent for "listening" to each gemstone. As I arrived, he was working on some large single sapphires along with countless other fine gems. I sheepishly handed him my piece of "ruby," and explained how I came about the piece, and that my goal was to set it in a jewelry design. "I know it's not like these other stones you're working with, but I love the story behind it," I told him. He replied that a "treasure is always in the eye of the beholder." He took my stone, and began polishing it.
He explained that upon viewing a stone, he is able to see what it should become, based on the type and shape of the rough, and the best way to cut with the least loss of material. He has been working with gemstones and learning the trade from his grandfather since he was a young boy. As he studies and works with a stone, he has a "vision" of what the finished gem will look like. The stone itself "always tells (him) what to do," he explained. After a few minutes of polishing and a quick cleaning, he handed me my shiny ruby piece, smiled, and wished me luck with my design.
I returned to my desk and studied my "ruby." I was immediately reminded of a snakehead! It was the perfect piece of stone to create a serpent ring…and in perfect time, since 2013 is the year of the snake! I gathered countless snake design ideas and presented them to one of our talented jewelers. We sat down later that week and brainstormed the design, the metal, and my personal preferences. Before its creation, we lovingly nicknamed it the "Silly Snake," because I knew this was a stone and a project most jewelers would not have the patience to deal with.
I was originally thinking of including some alexandrite and opal (my birthstone) as accents in the silver serpent design.
After a CAD model, a wax version and some debate over whether to include stones other than the ruby, our jeweler surprised me earlier this year with the completed ring. It was nothing like I thought it would be, but more than I imagined!
Seeing my "Silly Snake" elicited a response in me like a teenage girl that just received her first car. I slid the perfectly fit ring onto my finger, and have not been able to stop staring since! The simplicity of the rose gold design with the ruby as the center of attention made me thrilled to wear it. I love being able to share my story of the stone, and how much work was involved in the creation of just this one piece. This experience has given me a true appreciation for the rarity of gems, and the unique story behind each and every one.
Thank you to everyone who helped me along in this process and made my dream of a self-mined custom design come true! Sources & select images used with permission:
Robert Housley, mindat.org
Alyssa Morgan & Eloïse Gaillou, NHM Mini Blog