Omi Privé Showcases New & Award-Winning Designs at JCK's Prestige Promenade Salon 37
We are extremely excited to be part of Prestige Promenade at JCK Las Vegas from May 31st – June 3rd, 2013! We invite you to plan "Your Day at Prestige" and set aside time for a number of great events happening on the Prestige Promenade show floor, located on Shorelines Level 2. From Starbucks in the morning, to catered lunches during the day, to cocktails and parties in the evening, Prestige is creating an environment reflective of the beautiful product we all work with. We want your day at Prestige to be as memorable as it is productive!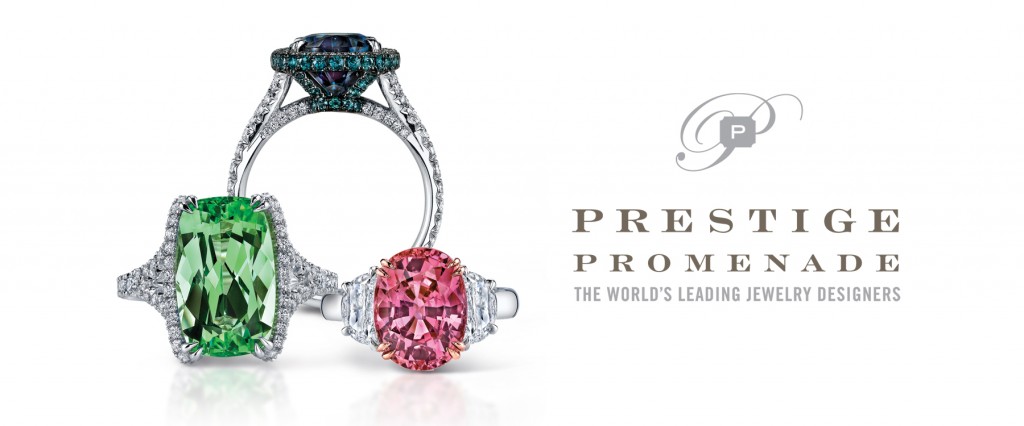 We'd like to personally invite you to join us and enjoy our colorful Omi Privé collection, our wonderful team and the exceptional services offered at Prestige Promenade:
Your day at Prestige begins with "Coffee & Color" each day at 10am. Jump start your day and view all of our colorful award-winning designs while sipping a delicious cup of Starbucks coffee!
Join us on Friday night for cocktails, hors d'oeuvres and entertainment during the NEW Prestige Party*! The opening day party starts at 5:30 pm on the Prestige Promenade Pavilion show floor. Please RSVP to fridaynight@prestigepromenade.com.
The party doesn't stop with Prestige! We're excited to invite you to the new Prestige Late Night Lounge* in the Bar Moderno at the Aria. Friday and Saturday night from 10 pm – midnight enjoy signature cocktails inspired by the color purple in a polished and fun atmosphere!
Saturday morning at 8:30 am we invite you to the Prestige International Breakfast*, where you will have a chance to browse the Prestige floor in advance of show opening. Enjoy a continental breakfast and color without crowds or interruption!
Other perks of visiting Prestige Promenade include:
– Business Center and Shipping Services
– TWO Starbucks Cafés with Full Beverage Menu available for sale from 10 am – 6 pm
– Continental Breakfast offered in the Top of the Promenade Café*
– Internet Café
– Fabulous Catered Lunch Service*
– Afternoon Snacks, Cocktails and Hors D'oeuvres*
– Lounge Area
We encourage you to contact us at prive@omigems.com or 877.OMI.GEMS to set up your personal appointment time during the show. In the meantime browse the Omi Privé must-have designs and we look forward to seeing you at Salon 37 in a few weeks!
*Credentials required – Please inquire