We are happy to present the second entry in the 2013 MJSA Online Design Challenge, submitted by Malak Atut of New York City. Omi Gems offered up a beautiful cushion shaped 3.18 carat alexandrite with strong color change as the inspiration for this year's Online Design Challenge. Throughout the year, nine designers are challenged to create an engagement ring design surrounding a fictional story of a young Russian couple, Galina and her boyfriend Michael, who are chasing the "American Dream".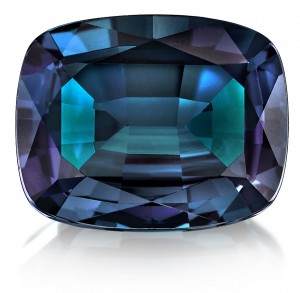 Malak created a rose gold engagement ring that would fit perfectly between two pavé-set diamond wedding bands. "My objective was to design something that was meaningful, worthy of the alexandrite, and aesthetically perfect for Galina—the real-life Russian doll," said Malak. The alexandrite in Malak's design is cradled by demantoid garnet crosses with rose-cut diamond centers intersecting where moonstones meet, representing Galina's strong Russian roots.
The entire story behind Malak's inspired design as well as more sketches can be seen on MJSA.org. At Omi Gems we have one of the largest inventories of loose alexandrite available. Please call us at 877.OMI.GEMS for all your loose gemstone needs!