by Nicolette Kovacevich, G.G.
Manager of Fine Jewelry, Omi Privé
A great amount of time has elapsed since my last entry; however, this is due to a hectic (and exciting) start of the year! From aiding in the selection of loose gemstones at the AGTA Gem Fair in Tucson to contemplating new design ideas with our head designer, Niveet Nagpal, I have enjoyed every minute of placing up-and-coming pieces into Privé production!  While I cannot wait to reveal all of the exciting additions to the line in the next few months, for now, I would like to address a subject that is definitely noticeable in the fashion – and retail – sector: the reemergence of rose gold.
It is true that mixed metals has been an ongoing trend, represented in all facets of the jewelry industry – from costume to couture. Whether worn alone, or used with other tones of gold in mixed-metal pieces, rose gold has certainly carried a strong presence into 2013. In the last nine months, the industry has seen the reentry of this tinted metal that has conveniently managed to subside over the decades, but has definitively resurfaced.
Rose gold first gained popularity in the beginning of the nineteenth century in Russia, and was earmarked at the time as Russian Gold.  It became popular in the United States in the 1920's. With the use of copper as the main alloy, this gold mixture gained its name from the pink hue it emanates.
Like most women, I love rose gold. There is a warm quality about the metal tone that makes it different enough to be unique, but still valuable and classic enough to withstand capsizing trends.  It is perfect for today's high jewelry consumer, who seeks individuality without compromise of quality.
Omi Privé customers epitomize this. Many new pieces in the Omi Privé collection have been designed entirely in 18K rose gold, as it ideally compliments pink and orange gemstones, from fancy colored sapphire and spinel to fine rubellite or spessartite garnet.
A recent piece that received noticeable attention at the AGTA Gem Fair is this 18K rose gold French-pavé ring. While simple in its design, the rose gold setting provides the precise rendition of color to highlight the stunning 3.56 carat orangey-yellow sapphire center.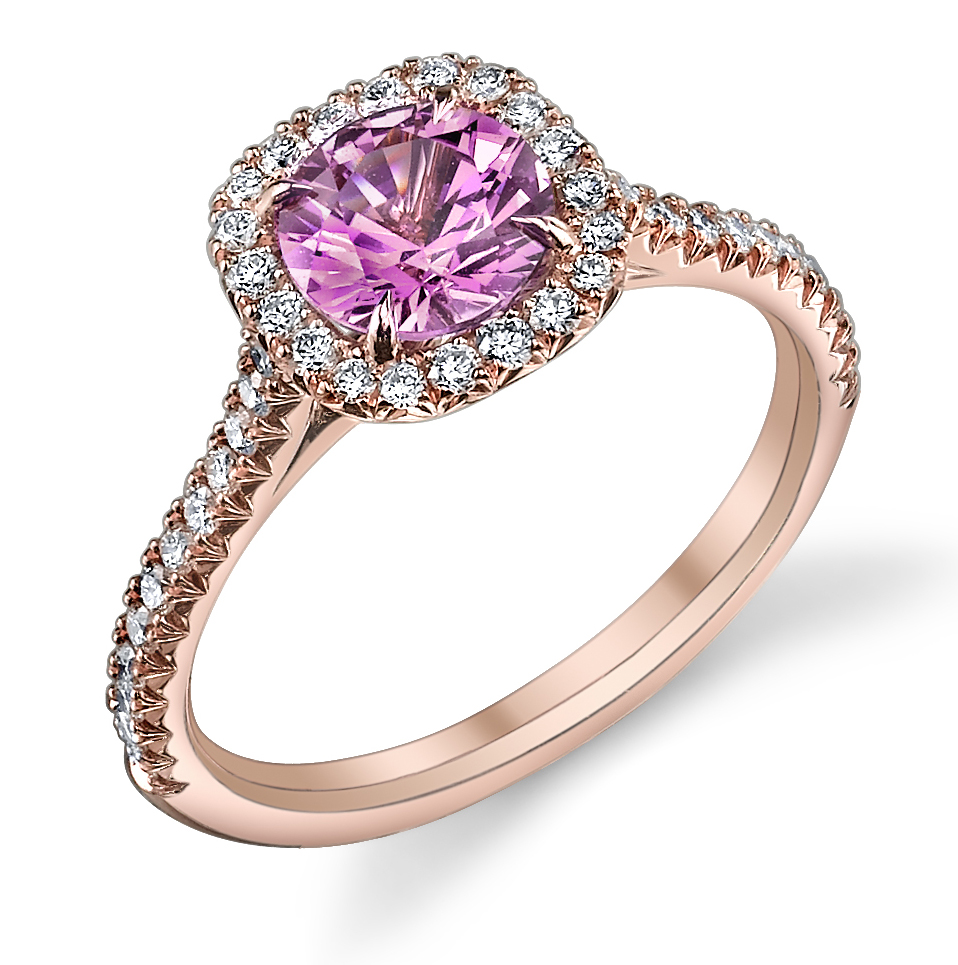 We are also excited to reveal several Omi Privé "Signature" designs with pink sapphire centers. The staple "Signature 1" ring in 18KR offers the idyllic setting to highlight a round pink sapphire.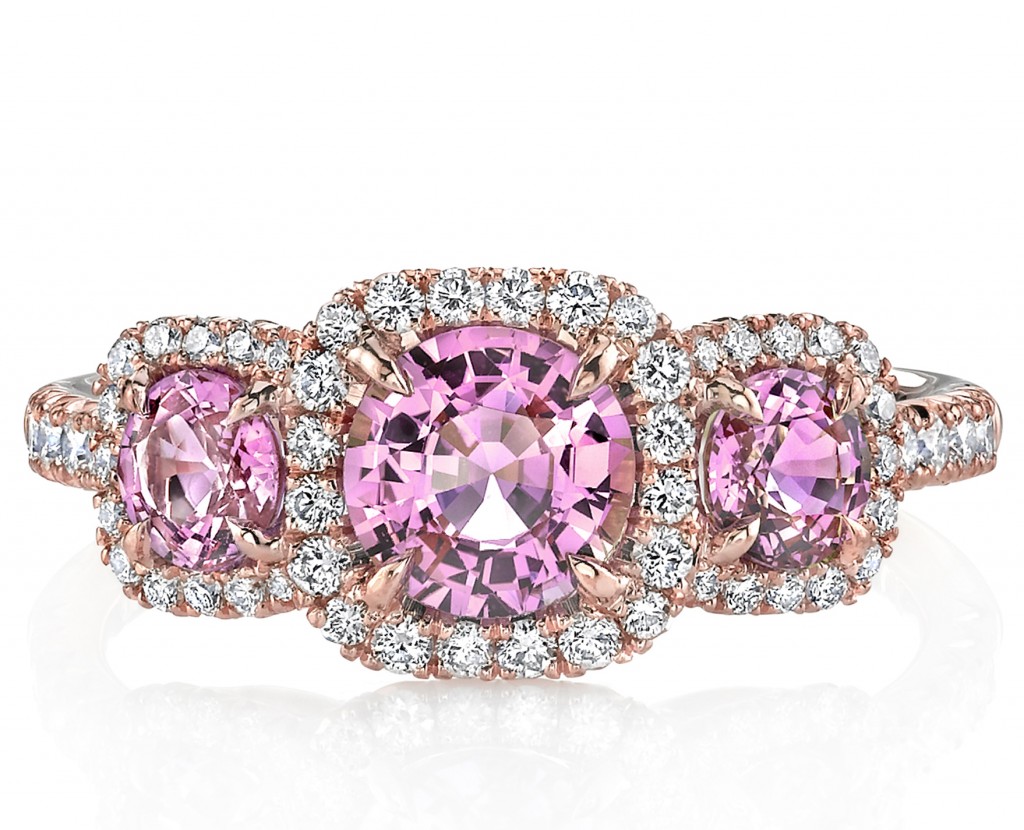 Notably, the Omi Privé "Signature 6" ring in rose gold has entertained great acclaim as a finalist in the 2013 Jewelers' Choice Awards. This design has been so popular, we have had a difficult time keeping one in stock!
Rose gold can also be spotted as an accent metal in several Omi Privé fine Platinum pieces. Check out the inner pavé-set halo and basket in this stunning Platinum ring, which flawlessly surrounds the 3.14 carat radiant-cut pink sapphire center.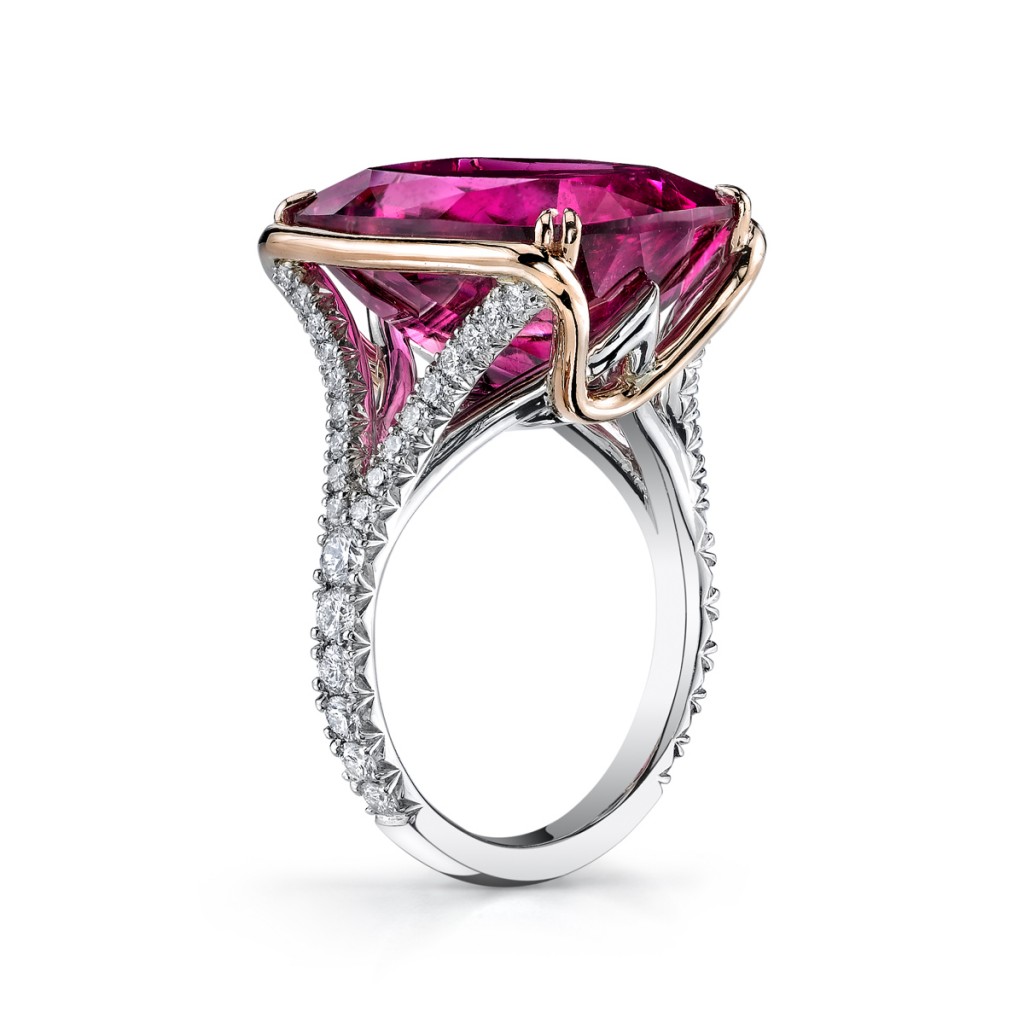 Lastly, one of my personal favorites is this Omi Privé stunner, which includes an 18K rose gold border that truly makes the 15.16-carat cushion-cut rubellite center pop! The epitome of a showstopper, this ring absolutely portrays the use of rose gold in all of its refined and timeless style.
To choose your own Omi Privé rose gold design, please contact one of our Authorized Retailers for pricing and information.