About Omi Gems
Gemstones are among the earth's greatest rarities. The love of stones is in our blood; it is a part of who we are, and showcases where we are destined. We purvey hidden parts of the world to source the jewels that inspire great design. Each gem is a rarity and an exclusive insight to millions of years past. We have a fine collection of classic gemstones as well as an ever-expanding inventory of extraordinary gemstones such as alexandrite, Paraiba tourmaline, spinel and padparadscha sapphire. An Omi gemstone is natural, valuable, and exceptional.
The Omi Gems family dates back five generations to Burma in the early 1900's. Decades of wars and close escapes from political unrest followed. With a handful of gems, a brilliant outlook, and a clear mindset, Omi Nagpal and his loving wife, Preeti, came to the United States in the early 80's. There, they founded and built a loose gemstone house that over time became synonymous with the world's most valuable jewels. Now, the Los Angeles-based company is lead by Omi's son, Niveet.
Attending his first gem show at six years old, Niveet discovered a great passion for the loose gemstone business. After earning a business degree from the University of Southern California and a G.G. from GIA in 1997, Niveet joined his father at Omi Gems. Niveet carries his family's deep appreciation for the inherent beauty of each gem and continues the reputation of providing only the finest loose gemstones. He is also deeply committed to the education and integrity of the industry and has contributed his knowledge of the business to many trade publications and events. Niveet is a member of several trade organizations including AGS, ICA, MJSA, The Gem and Mineral Council of Los Angeles, and is currently serving on the boards of the American Gem Trade Association (AGTA) and the 24K Club of Southern California.
The distinguished team at Omi Gems brings over 150 years of combined industry experience with two Graduate Gemologists on staff. We believe in complete disclosure of treatments and running an ethical business, while building relationships and understanding our client's needs. We provide knowledge, information and support to all of our clients. Our passion lies within the belief that every gemstone is a gift from nature. Our dedication is to provide our expertise and worldwide network of sources to bring you the unsurpassed natural beauty of fine gemstones.
Omi Gems Vice President Niveet Nagpal, G.G. with President Omi Nagpal.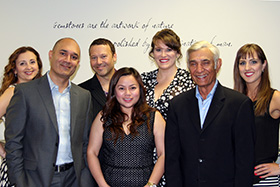 The Omi Gems Team (L-R): Manager of Gemstones Sally Wakim, Vice President Niveet Nagpal, Sales Specialist Manos Phoundoulakis, Accounting Manager Grace Bellido, Director of Marketing Natalie Weisiger, President Omi Nagpal and Manager of Fine Jewelry Nicolette Kovacevich, G.G.